New Holiday Ideas in Turkey
Turkey Holidays 2014… New Holiday Ideas in Turkey. There are loads of great new holiday ideas in Turkey this year, from walking trails in Cappadocia to boutique hotels and a toddler-friendly seaside break
On the beach in Cirali, Mediterranean region
For a truly relaxing break, stay right on çirali beach, near Antalya in southern Turkey, in a wooden chalet for two. The large beach has protected status as a nesting ground for sea turtles so it is totally unspoilt, and is backed by lush gardens with mountains beyond. All chalets – eight in total – have private porches with hammocks, and bikes are provided. A huge breakfast is included in the price, with fresh eggs, freshly baked bread and homemade jams. Four-course evening meals, with ingredients sourced from local organic farms, are an optional extra.
A tour for toddlers, Mediterranean region
Exodus's Turkey Toddler Adventure has been designed with young families in mind. It's a hassle-free mix of relaxing and exploring, based in the harbour town of Kas in southern Turkey. Activities include splashing about at Sakliken Canyon, a gentle boat ride to an island, snorkelling over a sunken city, and castle and farm visits. Accommodation is a hotel 10 minutes' walk from the harbour, with a good restaurant and an excellent pool area. •
Down on the farm, Fethiye , Aegean region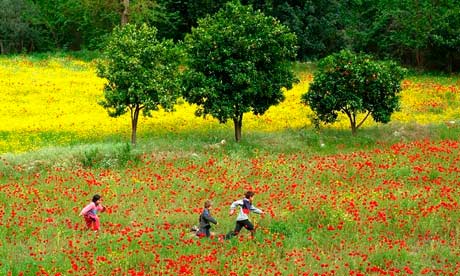 The Organic Eco Farm in Fethiye
The Organic Eco Farm in Fethiye, south-west Turkey, is an idyllic place for a bucolic family holiday. The farm is in the middle of a valley, surrounded by pine forests and bounded by a river. Arts and crafts workshops will keep children busy as they make souvenirs or learn to bake bread and borek (fried filled pastries). They can also help out around the farm and meet the animals, go fishing and swim in the pool, or visit the beach a 10-minute drive away. Families stay in stone, wood or mudbrick bungalows, and all food is healthy, organic and local.
Yoga holiday near Bodrum, Aegean region
This yoga centre is 20 minutes from the nearest village, so it offers total peace and relaxation. Work on your asanas at the edge of a pine forest, among olive and carob trees, with the scent of bougainvillea wafting through the breeze. The temptingly named Paradise Bay is a 10-minute walk away, and it's also possible to walk to Bodrum across the hills and along a dried river bed. A free minibus will take you to a nearby hammam for an exfoliating scrub and a foam massage. •
Walking in Cappadocia, Central Anatolia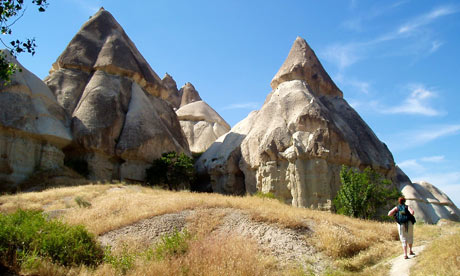 Most holidaymakers see Cappadocia from above, in a hot air balloon, or below, in the caves. But Inntravel has put together a guided walking holiday to help visitors explore the surface of this extraordinary landscape. The unique geology of this region includes some of the world's strangest rock formations. Walkers can get up close to tall white columns hiding rock-hewn churches, hike along the floor of a dramatic gorge, and explore the underground city of Kaymakli. Accommodation is in four boutique hotels, including one partially built in the cliffs at the cave town of Göreme. •
Stay in style, Islamlar, Mediterranean region
There's no need to sacrifice style just because you're in a remote mountain village in Turkey … Rani Evi is a brand-new villa in Islamlar, southern Turkey, built to a high-spec, contemporary design. It's open plan with floor-to-ceiling glass doors, slate tiles and chrome finishes. There are terraces, a private freshwater pool, and uninterrupted mountain views. Guests also have use of a jeep, and a free Turkish bath at a local wellbeing centre. •
Istanbul by luxury train, Turkey and beyond
The Danube Express chugs from Hungary to Turkey and back again on the Istanbul Loop. But this isn't student InterRailing – the deluxe train is equipped with en suite sleeping cars and all mod cons, and serves delicious regional food. It's a delightfully relaxed way to cross central Europe, from Transylvania and the Carpathian Mountains to southern Bulgaria and Serbia. There are eight scheduled stops for organised city tours or shows, such as a Puszta horse show in Hungary. Once in Turkey itself, passengers disembark in Istanbul for two days of sightseeing, staying in the four-star Yasmak Sultan hotel. This kind of luxury train travel does come at a price, though.
Boutique hotel in Alaçati, Aegean region
Alaçati's clear water and reliable breeze attracts wind- and kitesurfing fans from around the world. A new kind of visitor is being drawn to its pretty cobbled streets, great restaurants and cafes, vineyards and the 2km Ilica beach. A clutch of boutique hotels has sprung up in the town's Ottoman houses. One of the newest is Morro, a tranquil six-room hotel in the centre, with a lovely pool in a walled garden.
Historic tour and gulet cruise, Marmara region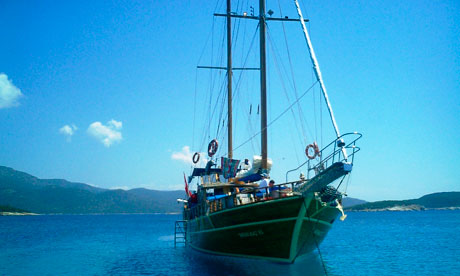 Experience the best of Turkey in just 12 days with this tour of its north-west. You'll visit Istanbul, the Gallipoli battlefields and the sites of Troy, Pergamum and Ephesus, staying in four- and five-star hotels. But you also get to spend three nights cruising the Mediterranean coast on a traditional Turkish gulet, and one night in a treehouse by the beach in Olympos.
Walk in Abraham's footsteps, South-east Anatolia
Abraham's Path is a new 170km walking route in the Sanliurfa region. The path follows in the footsteps of the prophet Abraham, and takes in biblical and prehistoric holy sites, such as Harran, famed for its beehive houses; Göbeklitepe, a newly excavated treasure; Sogmatar, a worship centre for the moon god and the planets; and many medieval trading posts. Sanliurfa (or Urfa) itself is a fascinating town that was once on the border of the Roman and Persian empires, and boasts a castle, great mosques, a huge bazaar and caravanserais (ancient roadside inns). Hikers can complete as much or as little of the route as they choose, staying in homestays along the way. Local co-ordinators can help organise accommodation and advise on the different sections of the path.
Written By Rachel Dixon
The Guardian